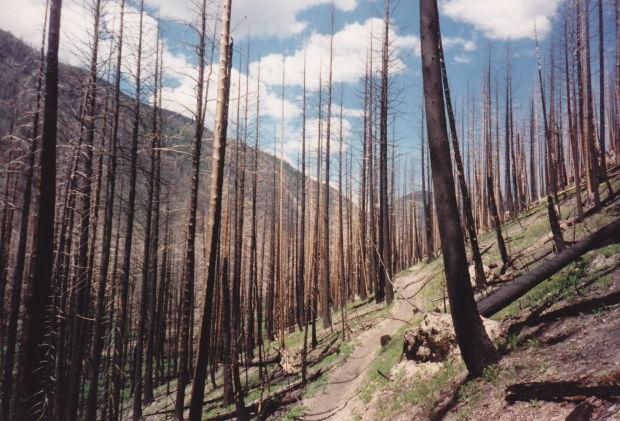 Twenty-five years ago today, Kathy Heffernan was looking east from Helena and saw history burning her way.
"You could see the blowups, the columns rising – ding, ding, ding – within seconds of each other," the former U.S. Forest Service wilderness ranger recalled of Aug. 9, 1988, when the Canyon Creek fire started rearranging what land managers thought they knew about burning forests.
The little smudge Heffernan had personally checked out 17 days before had grown to 33,000 acres in the southern quarter of the Bob Marshall Wilderness.
Outfitter Smoke Elser was also there the day Canyon Creek started on June 25. He and eight or nine guests were camped a quarter-mile away from the lightning strike that ignited "a big old punky log and a couple of bushes on either side," he recalled. He and a couple of companions went up with a Pulaski and shovel to cut a little line and keep it from causing trouble.
Heffernan came by the camp the next morning and went to check the fire herself. By radio, she got word from the Lolo National Forest fire management officer to let it be. The little blaze looked ideal for clearing out some understory and improving elk habitat there.
July 1 was the official start of burning season, and decisions about little fires like Canyon Creek moved from the local ranger to the forest supervisor's desk. That's where Orville Daniels was in the Lolo National Forest's Missoula headquarters. For the previous 16 years, Daniels had been testing and refining the concept of letting wildfires burn on their own – in controversial contrast to the Forest Service's "10 o'clock rule" that expected any new fire to be controlled by 10 a.m. the next day.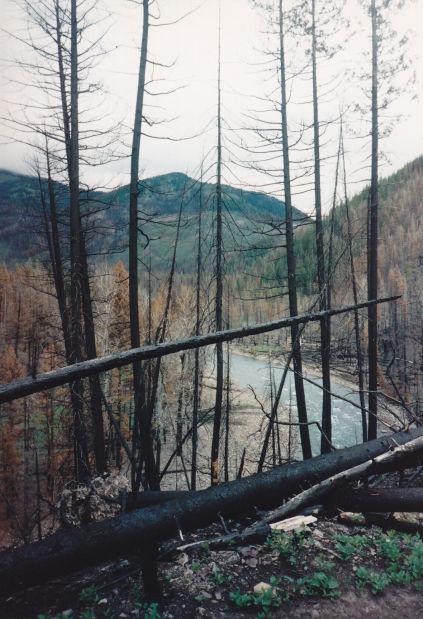 Canyon Creek behaved like a model wilderness fire until July 22. That's when Daniels was driving through Missoula on a blue-sky day and saw one huge cumulus cloud tower to the northeast.
"I knew what that was," Daniels said. "That was our fire."
That day, the fire perimeter grew to 10,000 acres. A little bigger than expected, but still within the prescription. Daniels flew over it on July 25 and saw a classic mosaic pattern of burned and green countryside: "exactly what we prescribed."
Part of that assumption included a Missoula weather oddity. In 23 of the past 25 years, what locals called "the August singularity" produced a midsummer rainstorm in the middle of the Western Montana Fair week. But in 1988, the pattern failed. And on Aug. 9, 30 mph dry winds tripled the fire's size.
Elser had another pack string of guests working their way down the Chinese Wall in the Bob Marshall when he saw that smoke clouding his view. But he said he didn't realize the threat until he got to the Benchmark trailhead to see his wife, all his stock trailers, and a Forest Service escort waiting to get him out of the woods.
The next card in this game of Wildfire Texas Hold'em turned on Aug. 29. Despite some fire line built to keep the fire on the west side of the Continental Divide, backed up with helicopter water drops, another burst of dry wind ran the acreage up to 51,000.
"It hit the Continental Divide and kept going," Daniels said. "Then on Sept. 6, we got hit with a low-level jet stream."
A few days before, weather forecasters had warned Daniels of this freak occurrence, where the usually high-altitude jet stream winds drop almost to ground level. They weren't certain when, or where. On the 6th, he was in the Lolo dispatch office when he heard the radio chatter of fire lookouts in Idaho, talking about wild winds.
"I knew I had responsibility for this fire," Daniels recalled. "And then at 9 a.m. it hit. There was nothing I could do."
The Canyon Creek fire seared across 180,000 acres in 16 hours. That's faster than any recorded fire in a coniferous forest, faster than the infamous 1910 firestorm. So much country, Daniels remembered someone looking at his fire report and saying he had the decimal point in the wrong place.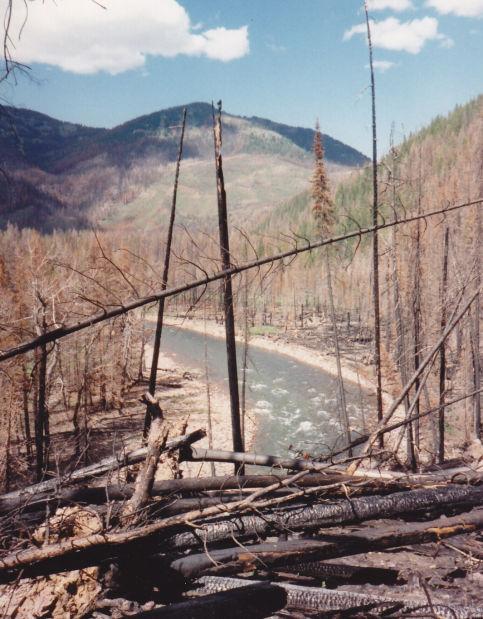 A satellite photo of Sept. 6, 1988 tells several tales. One is the tail of smoke coming off the Canyon Creek fire, showing a distinctive swirling pattern as it blows toward Great Falls. The jet stream twists as it blows, adding wild vectors to its 50 mph blast. An eddy from its eastward passage actually made another small fire north of Canyon Creek reverse direction to the west.
But the photo also shows the broad shield of smoke obscuring Yellowstone National Park, which was in the process of burning nearly 1 million acres that same summer. And it shows the Red Bench fire, which nearly wiped Polebridge off the map when it burned into Glacier National Park. And it shows several massive fires in the wilderness along the Idaho-Montana border. That year was a fire year for the history books.
Some critics argued the Canyon Creek fire burned up Daniels' let-burn idea. When the big blowup came, it burned all the way to the baseball backstop at the edge of Augusta. Elser said only some overgrazed pastures and a hastily cut bulldozer line saved the town. How could such a threat have been left to grow?
Instead, Canyon Creek taught fire managers to be much more aware of their resources when planning prescribed fires, Daniels said. In 1988, every aircraft, engine and Hotshot crew was spoken for when Canyon Creek started rolling out of the wilderness.
It also pointed out the impact of drought years, which were considered then but not to the extent they are now.
"One thing we learned was this kind of fire was normal," Daniels said. The Choteau town paper recorded similar massive fires roaring out of the Bob Marshall in the mid-1890s. Other accounts from Blackfoot River settlers reported 4-mile-wide flame fronts roaring across the mountains.
"We thought it was always going to be little mosaic fires in the Bob Marshall," Daniels said. "But it always has burned big like this – not often, it needs to be very hot, but that's how it burns up there."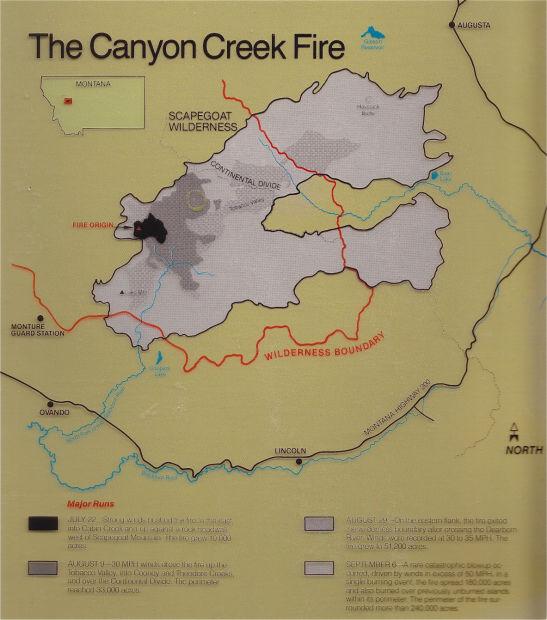 Another thing that turned up in the analysis of the Canyon Creek fire was an 1898 survey of what's now the Bob Marshall Wilderness. It reported more than 60 percent of the countryside was grass and shrubs, with 30 percent recently burned timber. Just 10 percent of the area was timbered.
"That's why they designated it a primitive area," Daniels said. "It had no commercial value. And that's what it was like before we had regular fire suppression."
Fire managers also learned that even in potentially catastrophic fires like Canyon Creek, there are peaks and valleys of activity that firefighters can capitalize on. Before, the strategy was often to throw all available resources in the fire's path and hope they held, Daniels said. Canyon Creek showed there can be weeks of time between bursts when more complex strategies can be worked out.
"It changed my whole attitude as a recreational packer," Elser said. "Before Canyon Creek, the guests were coming to see the elk and trees. The next year, everything was black. I had to learn the ecology of fire, so I could interpret it for the guests. Some other outfitters never went back."
Heffernan said she initially missed the big trees and shady trails she'd grown accustomed to as a wilderness ranger. But years later, when bringing her children into the Canyon Creek area on backpacking trips, she was amazed at the greater numbers of wildlife, the thicker carpets of wildflowers and the way the countryside had renewed itself.
"The prime purpose of wilderness is to show us what nature does when man doesn't interfere," Daniels said. "It's a place to let natural forces play out, so we can learn the role of fire on the landscape. With global climate change, these places are more valuable than ever."