In the midst of chaos, humanity reigned in the lower Rattlesnake Valley last Friday.
An avalanche heretofore inconceivable to most in Missoula thundered down a steep ravine from Mount Jumbo and onto Holly Street. The wall of snow buried a man and his wife among the ruins of their two-story home and an 8-year-old boy playing outside his house on Van Buren Street.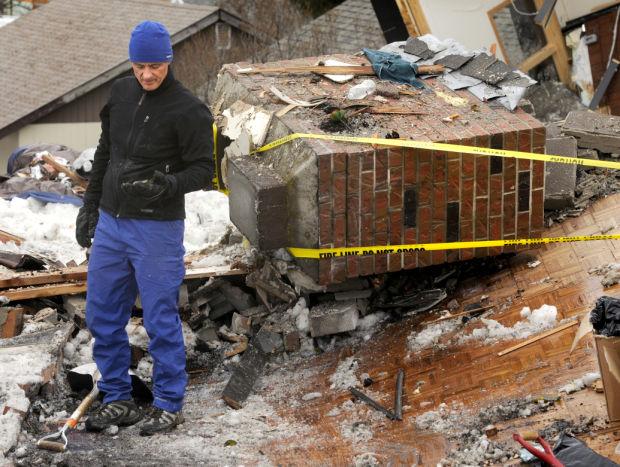 The boy's 10-year-old sister was able to extricate herself from the snow and rubble, even as their mother, Erin Scoles, watched the terrifying scene unfold from a bedroom window.
"I've been on the department 25 years and never would have thought I'd roll on something like this," said Kip Knapstad, battalion chief with the Missoula Fire Department who served as incident commander.
The first call to fire headquarters on nearby East Pine Street came in at 4:18 p.m. It was nothing out of the ordinary, Fire Chief Jason Diehl said – a "medical stage" requiring one engine to Holly Street.
"We were shortly thereafter advised it was an avalanche and threw more resources at it," he said.
Within minutes, Missoula police, county sheriff's deputies, search and rescue, and the first of some two dozen city firemen were on the scene. It was still daylight on a bitterly cold day made worse by gusting winds.
Some 70 minutes later, shortly after 5:15 p.m., one of a swarm of volunteers and emergency responders searching in desperation for Phoenix Scoles-Coburn had a "hit" with an avalanche probe alongside Scoles' home.
Shovels were called for and soon orange and black material was uncovered.
"We yelled out and asked if anybody knew what color the boy's coat was," Capt. Terran Lohman of the fire department said.
"Orange and black" came the reply.
Alas, more digging revealed only an inner tube of the same colors.
"But right in that same area, literally where we were standing as we were kind of methodically probing from that area out, we had another hit," Lohman said. "We dug down and probably (after) 2 or 3 feet of snow we saw the top of the boy's head."
From there, he said, it was "game on."
Rescuers hurried to remove snow from around Scoles-Coburn's head. One started mouth-to-mouth resuscitation. Medics appeared "after what seemed like a few minutes but was probably seconds," Lohman said.
The boy was unresponsive, but the hopes of those at the rescue site waxed tenuously as his airway was secured and an oxygen mask applied.
"Not a lot was known about his condition, other than there didn't appear to be a whole lot of life in there," said Lohman. "It was pretty intense."
The boy was dug out of the snow near a wooden fence on the north side of the house. A path was blazed through the deep drifts to the street in front of his house where an ambulance waited to whisk him through snow- and vehicle-clogged streets to St. Patrick Hospital.
It left behind a feeling of euphoria and wonder.
"As much snow as there was, and all that area that was covered by snow, it was a great feeling to find him as quickly as we did and to be able to extricate him as quickly as we did," Lohman said.
Indeed, Phoenix Scoles-Coburn survived and was released from the hospital less than two days later.
"I tried to track him down. I wanted to give him a little token," said Lohman. "That's the toughest kid in the country right now as far as I'm concerned."
Another victim, Michel Colville, succumbed to her injuries Monday. The condition of her husband, former University of Montana professor Fred Allendorf, had been upgraded to good at St. Pat's by Wednesday.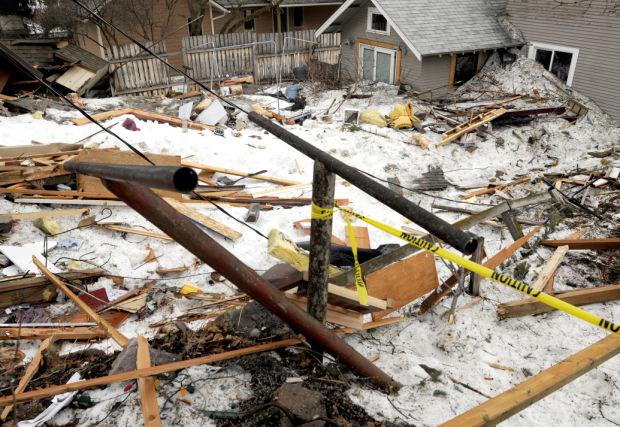 There was a lull after the first rescue as dusk began to descend and more people arrived with shovels, probes, cameras and prayers.
The smell of gas from a ruptured line permeated the neighborhood.
Up Holly Street toward the mountain, the former home of Colville and Allendorf had been leveled and buried under the slide. The shell of its top floor was thrust headlong into the snow slide and a neighbor's shed across Harrison Street to the west. Still-live electric lines passed over it, held tenuously by a transformer pole that had been pushed into the skeleton of a tree downslope.
"The house was knocked off its foundation and the meter just sheared off," Knapstad said. "Essentially there was no way you could shut off the gas."
With NorthWestern Energy on the scene, a shovel brigade was enlisted to locate a general shutoff valve under Van Buren Street. Those efforts failed, and the rescue scene was defined throughout its three-hour duration by the odor of gas.
"The only good thing about it was the wind," Diehl said. "Natural gas dissipates pretty readily, but when you've got 50 mph winds it dissipates real good."
Another safety issue dogged the rescuers.
"We were concerned about a second slide," Lohman said. "The wind was still howling, it was still loading up and we didn't have a really good visual. We couldn't see and determine where the first one broke."
Scouts were posted on the hillside to keep watch as searchers marshaled near the ruined house.
Those were "some tough moments," Lohman said. "We had three major hazards. Our big concern was are we going to have 100 people that get hurt or come up missing? That was certainly a potential."
No one in command at the time was certain if Allendorf and Colville were at home when the slide hit.
Police work helped answer that question. A white car all but buried by the slide was uncovered enough to reveal its license plate. The plates were run, identifying it as belonging to the missing couple. A call to relatives ascertained that if the car was there, Allendorf and Colville were likely to be as well.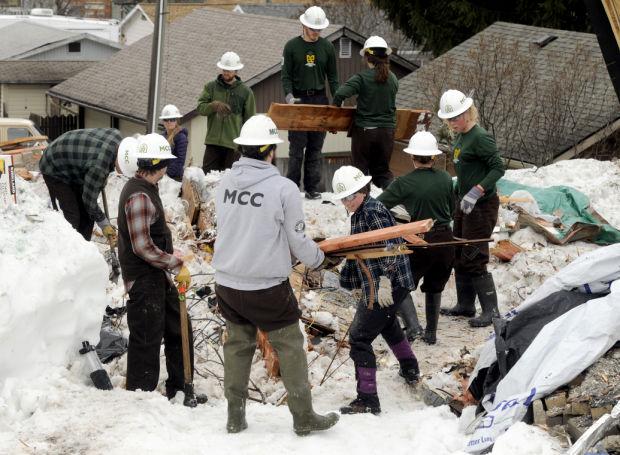 Fire training officer Matt Kearns was off duty Friday, but he was called to the scene because of his technical expertise on backcountry and avalanche rescue. Kearns himself was swept under by an avalanche while climbing Mount Rainier two springs ago. He was able to get out of danger on his own power, "but it definitely changed my perspective," he said.
He arrived at Holly Street after the boy's rescue and was put in de facto charge of the rescue squad. A cluster of a couple of dozen men and women held dozens of the long white avalanche probes upright as instructions were hastily dispensed.
"Our guys are well-trained to operate in emergency situations, but an avalanche like this is just a needle in the haystack," Kearns admitted.
He was immediately impressed with the savvy of the probe squad.
"I'd say within the first three minutes of being on scene we had a probe line going, probing across, determining the point last seen, just classic operational things," he said.
"I don't want to downplay our efforts, but it really was a community effort when we found the gentleman and his wife. We just have a real outdoors-savvy backcountry community at large. Chances are one in every 10 people in our community is some sort of high-end recreationist or backcountry user."
They hit the rubble piles of what had been the Allendorf-Colville house in what were deemed the likeliest spots. Besides probes and shovels, chain saws were employed to remove timbers and debris.
At 6 p.m., two hours after the avalanche struck and some 45 minutes after Scoles-Coburn was found, a probe made contact with something "spongy or bodylike," Kearns said.
The spot was flagged, the probers moved on and the shovel brigade moved in. Allendorf was found, conscious and responsive, lying nearly face down, pinned between the chimney and the uprooted main floor. The air pocket it formed was enough to save his life.
Lohman said one of the first questions the retired professor asked was, "What happened?"
As Allendorf was freed from the debris and slid onto a backboard, Lohman asked him where his wife had been when the avalanche hit.
"She was right by me," Allendorf replied.
"I don't know if that gave us a whole lot of information, but it certainly was a concentrated effort from where he was," Lohman said.
It was a good feeling to find a second survivor, but there was immediately "a kind of refocus," he added.
"We're two down, one to go."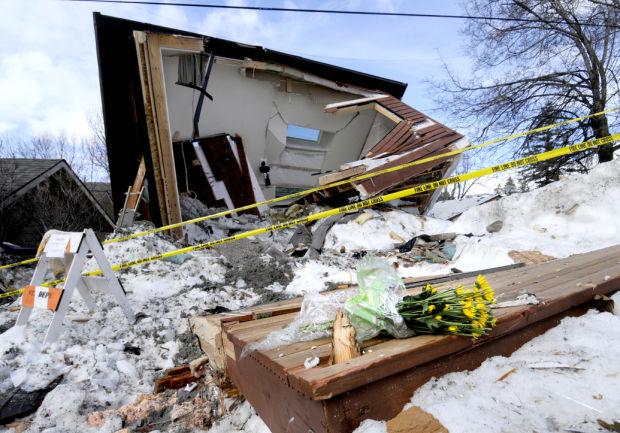 By then, darkness had descended. Portable floodlights lit up the circle of disaster as the snow and wind swirled.
It took another hour – Diehl said he wrote 7:10 p.m. in his notes – before Colville was found. The trained probe crew had worked the area immediately downhill from where Allendorf had been.
"I believe it was a bystander who actually found her, kind of inside what would have been the (house) itself," Kearns said.
The foundation had been pushed down the hill, and Colville with it. Knapstad said she was some 25 yards from where her husband was found.
"We were glad to get her alive, but I think at least the trained responders knew she was going to have some issues," Kearns said.
Responders, onlookers and victims alike will carry images of the afternoon and evening with them.
Knapstad said one of his was from early in the operation, soon after he'd reached the scene.
"I stopped and I could smell gas and I looked behind me and here's what really stuck in my mind: I could see like a small army of police officers and citizens running with shovels and probes in their hands," he said. "I mean they just went right by me and went to the scene and started digging."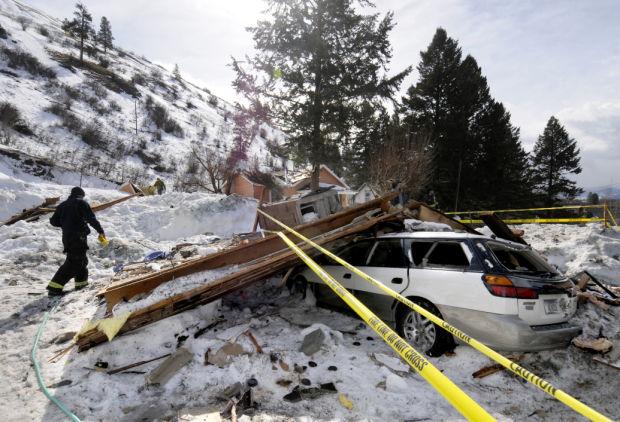 Knapstad echoed the sentiments of many trained responders, thanking the community for stepping up under such dangerous, uncomfortable and potentially tragic conditions.
"It was something I'll never forget," he said. "I just want the people of Missoula to know that we really appreciate their help. Without them, we probably wouldn't have had the success we did."